Hand-Cracked Coconut Big Gift Box
₦ 32,000.00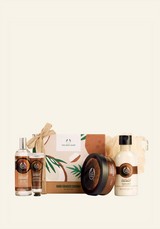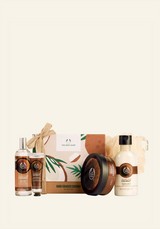 "Beautiful box set, smells divine, always complimented on my body spray too"
What does it do for you ?
Take skin to a tropical paradise with the refreshing surprises packed inside our Hand-Cracked Coconut Big Gift Box.
Lather up with the cleansing Shower Cream and body buffing Bath Lily. Nourish dry skin with the richly textured Body Butter for 48hr moisture. Hydrate palms and pinkies with our Hand Cream. Spritz that beautiful body with the subtly creamy Body Mist.
This luxurious, bow-wrapped gift box is perfect for any occasion.
Coconut Shower Cream 250ml
Coconut Body Butter 200ml
Coconut Hand Cream 30ml
Coconut Body Mist 100ml
Cream Bath Lily made with recycled plastic
Made with Community Fair Trade organic virgin coconut oil from Samoa
Out of stock
Only logged in customers who have purchased this product may leave a review.